Click on any photo to enlarge, then use your "Back" button to get back to this page
Restoration of the main body required patching the sheet metal and rebuilding the wood frame.
The body was made primarily from three pieces of sheet metal attached to the wood frame. Many of the original sheet metal joints were drive type slip joints. These slip joints were not attached to the wood, so I replaced them with flanges and screws into the wood frame. Originally, the frame was probably built first and the sheet metal fitted to it. However, for a restoration I had to build the frame to fit the sheet metal. This was not easy and required much test fitting. It seemed like the sheet metal never fit exactly the same from one test fit to the next.
My plan was to save as much of the original wood as possible. After inspection, I realized that the only pieces I could save were the main tail piece and the sills (see tear down). The original design was so weak that I felt compelled to make the rebuild stronger.
A friend that builds sail boats put me on to a really nice epoxy system from West Marine. This stuff is really nice, especially if your carpentry skills are not the greatest.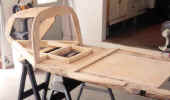 I decided to reconstruct the body from the tail forward. This shows the sills after repair and cleanup and my reengineering of the tail. Now it is all braced and tied together.

A lot of manual fitting was required. I built the "rotisserie" to make it easier to turn the body over.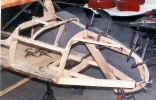 The sheet metal was off and on about 5 gazillion times as each new piece of wood was fitted.

Several structural improvements were made during the rebuild. All of the original joints were nailed butt joints. Stronger joints were used throughout, with many reinforcing pieces.
Angle iron pieces were added to help support the tail. This photo also shows how I relocated the rear spring by telescoping the frame. A period correct method and much stronger than the original method (see p. 166 of Model T Ford in Speed and Sport).

The curved side pieces are now epoxy laminates - much stronger than wood.

The "B" posts were reinforced with a gusseted 16 gauge bracket attached to the bottom of the sill.

The completed frame. Rock solid compared to the original.

Originally, the firewall provided the only structural support at the front. I added some framing to give better support for the dashboard and windshield.

The firewall was made to provide clearance for the Rajo head and give a comfortable angle for the steering column.