Click on any photo to enlarge, then use your "Back" button to get back to this page
The first step in the body restoration was patching of the sheet metal. The body is made of three pieces of sheet metal plus a small trapezoidal piece on the rear deck. The body was rusted out at the bottom from the firewall to the seat back, so patches were welded along the bottom of the cowl and the bottom front portion of the tail sections.

The worst area along lower part of the cowl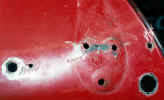 Stress cracks because the windshield bolted through the sheet metal with no other support other than the firewall, dash board and surrounding wire bead.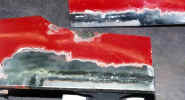 I decided to experiment by gas welding (bottom) one side and mig welding (top) the other. I'm not such a great welder, so the mig came out much better, but required a lot of grinding.

Stress cracks at the rear corners of the trunk opening had been repaired and severely burned the wood frame. Very poor workmanship covered by a lot of lead. I cut it all out and patched it.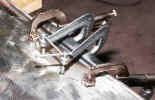 The wire bead along the bottom of the tail had apparently broken and been repaired by brazing a piece of sheet metal around it. The whole mess was covered with lots of bondo.

I cut it all out, welded new wire to the broken one and patched the sheet metal. This little patch was the most challenging.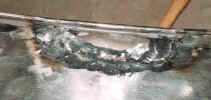 I was pretty happy with this repair.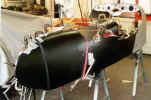 Final mounting of the sheet metal tail. I cemented and nailed the tail section. You can never have enough C clamps.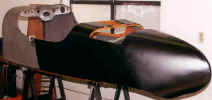 Now it is starting to look like something.

The body is now ready for final finishing.

Quite a bit of finish work was required, but now we are ready for a test fit.

Looking good!

It is tempting to forget about fenders and put it back on the road like this, but I realized if I did that I'd probably never get the fenders done.