Here are some samples of the activities we do.
We usually have at least one activity every month (see Calendar) in addition to the monthly meetings. Click on the buttons at the left to see more information on specific events. To see a larger view of the pictures below, click on them, then use your browser "back" button to get back to this page.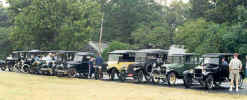 We go on tours with our cars. Here we are getting ready to start a tour at 31st and Riverside Drive in Tulsa. Click on the buttons at left for information on specific tours.

We do parades. This one was in Claremore.

We display our cars at other civic events.
Here we are at the historic Sophian Plaza.

We displayed our cars and dressed in period cloths for Henry Ford night at Chataugua.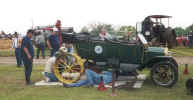 At the Pawnee Steam and Gas Engine Show we converted Mike Bender's touring car to a tractor.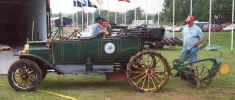 And then plowed with it.

We get together to help each other with our cars. Here we are installing a top on Ken and Peggy Banta's 1926 coupe.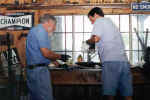 Here we are rebuilding a transmission at Fred Houston's Model T Garage.

We work on projects to help us understand and improve the performance of our Model Ts. Some of these projects have considered improved camshafts, transmission shaft alignment and Model T heads. See Technical for information about these and other projects.

Almost anyone can appear at the Model T Garage. Here is Fred Houston with Jim Roof, grandson of Robert M. Roof