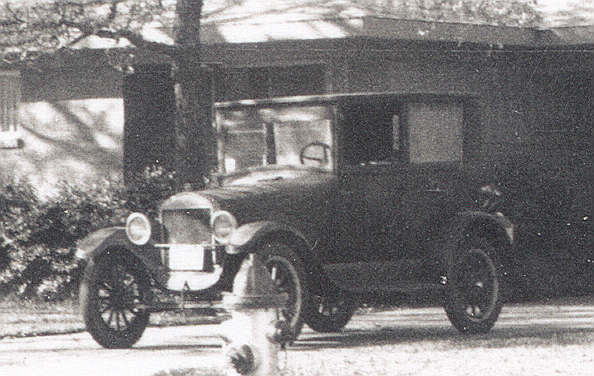 The photo above shows what the car looked like in the 1960's. Not much change between then and 1993 below, but quite different in 1999.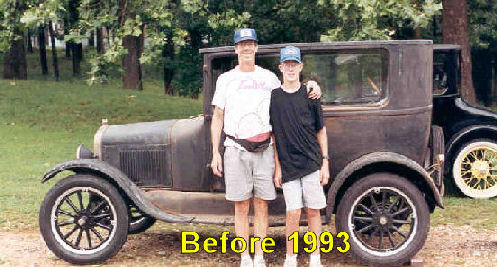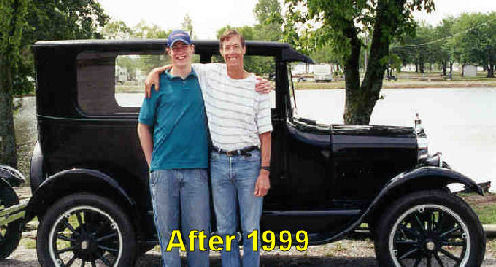 When Larry Young finished restoring his 1926 Tudor, he created a Powerpoint presentation documenting the project. Here is a little more of the car's story.
Click here to download the Powerpoint presentation.
The restoration of our car took either 6 years or 42 years depending on whether you take the short or long view of the story. My father purchased the car in 1957, when we lived in Irving , Texas. He was in the porcelain enamel business in Dallas and was setting up a second plant in Orlando, Florida . He was transporting a lot of equipment to Florida, and on one trip he returned with the car on the back of a flat bed truck. It was a runner, but pretty tatty even then. As an 8-year-old, I couldn't wait to ride in it, but it was a Sunday and we couldn't find a loading dock to get it off the truck. He paid $175 for it, including a second engine and transmission and other parts. When I read classified ads on old issues in Vintage Ford, I wish he'd paid a little more to get a really nice one. You'd have to have known my father to understand.
His porcelain plant had a sheet metal shop for making sign faces and letters. They worked on the T during slack periods. These guys were definitely not body men, as I discovered when I got into the restoration. They managed to get it into reasonable shape and good running order. It's probably the only T with porcelain enamel window moldings. It had a porcelain enamel top as well, but it was in poor condition, so I replaced it with a conventional top. Dad never got around to repainting or upholstering it. He drove the car around town and 20 miles round trip to work. It was usually steaming when he pulled into the driveway after work. I remember it having large signs on the side when he ran for the Irving school board, and going to church in it on Sundays. I was allowed to drive it after I got my license. I remember he asked me once, if I'd like to fix it up and drive it to high school. Unfortunately, I declined because it was not cool compared to hotter cars. I did drive it around town though, because it was such a novelty. I could only find one old photo of the car and that is the one on at the top of this page. I believe that was about 1964.
By the late 60's, Dad began to lose interest in the car, and I went off to college. We were always thinking about a complete restoration of it. Dad joined MTFCA in 1975. When Sue and I bought our first house with a garage in 1976, I was thinking now is the time to restore the T. But the house, near Swan Lake, was an older one needing its own restoration. There were also new careers for both of us, then there were kids - a common story. My folks had a farm home in North Texas and after 1983 the T was stored in a barn there. It was soon covered in dust, cobwebs and mud dauber nests. The car intrigued my son, Tom, and he was always urging me to do something with it. We brought the car to Tulsa when the farm was sold in 1993. It had 1967 plates on it, but it had been driven briefly in 1970, so it had been sitting for 26 years. After a little work, we got it running.
We joined the Model T Ford Club of Tulsa at the 1990 hill climb, and discovered a tremendous resource in Fred Houston. Fred's patience and willingness to help two neophytes was really appreciated. He convinced us that we could get the T going again. I don't think Tom or I will ever forget the day we first got it started, or the early morning drive down I-244 for the start of the 1993 Route 66 tour. You'd have to have seen it then in order to appreciate the transformation. It was rusty with rags for an interior, and those mud dauber nests on the side added a special touch. There were no door or rear windows. Most of the mud dauber nests washed off during the shower on the 1993 Route 66 tour and mud came into the passenger compartment through the non-existent rear window.
A ground up restoration was started in December of 1993. We would not have tackled this project without Fred and the rest of the club as a safety net. Fred helped us with all of the mechanical parts of the restoration and with general advice and guidance on everything else. The engine was restored by Al Montgomery in Joplin. Classes at Tulsa Technology Center were also a great help. The chassis was restored by the middle of 1994. The bodywork took a lot longer. After removing all of the petrified road grime (a rock hard combination of dirt, oil and rust), we found a lot of rust through. The bottom 3 inches of the body was replaced with new metal all the way around. Unfortunately, I did not take the individual body panels apart, because although there was rust evident in the belt line, there was no rust through. That was a mistake. Air and water can get to the back side of the seams, so it now has bubbles around the belt line. Another mistake was having the body blasted with plastic media. I was told it would remove all but microscopic rust. What a crock. I now blast body panels with Dupont Starblast. I have never experienced any distortion with it.
Here are a couple of points about the car. In the "Before" photos you will notice the car is black. Most of this appeared to be original paint. The serial number indicated a build date in April, 1926. You will notice the rear window had wood around it. I believe this is indicative of an early 1926 car. In his books and articles, Bruce McCalley indicates that many early 1926 Coupes and Tudors were black rather than the green that was advertised. Our car must have been one of them. Although the upholstery was ragged, there were remnants that showed the green pinstripes. So, the interior was as advertised, but the exterior was black. There was no evidence of a pinstripe on the exterior, but I've seen black '26 Tudors that had a green pinstripe. It makes sense that the pinstripe on the outside should match the interior stripes. The final photos where taken before I had the green pinstripes put on. The green exterior stripe looks very nice with the green striped upholstery.
It was a long project, but I feel a lot of pride and satisfaction in the final result. I would like to thank everyone in our club, especially Fred, for all of the help and moral support.
After restoring the car, we found that it ran like a dog. It had one of Al Montgomery's 290 lift "Touring grinds". The story of how it became the Cam Project test car is covered in one of our Tech Pages.